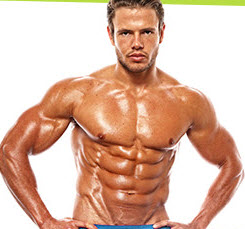 Fitness model Ben "Abstacker" Handsaker is one of the leading promoters of YOR Health products. YOR Health has been proud to include Ben as a critical part of their mission. Below, YOR Health describes Ben's connection with the brand and shares details about his international triumphs in 2013.
 
Interviewing Experts: First of all, "Abstacker" is such a unique nickname.
 
YOR Health: It is – but this interesting moniker fits the man.
 
Interviewing Experts: Who is Ben "Abstacker" Handsaker?
 
YOR Health: He is a world-renowned model from Australia, the first member from that country to serve on the YOR Health Athletic Advisory Board. He has earned a series of victories in 2013 that represent our company very well.
 
Interviewing Experts: What are some of Ben's major accomplishments?
 
YOR Health: As a result of his hard work, dedication and fierce commitment, Ben reached the very top of his demanding field during this past year. A series of awards and accolades speak to his tremendous achievements over the course of the last 12 months.
Interviewing Experts: Is there one highlight that stands out to you?
YOR Health: Ben competed this spring in the Asia Pacific Championships, his third attempt at the showcase event. He earned three awards for his efforts. He took home the prestigious titles of Overall Men's Champion, ANB Fitness Model Overall Men's Champion and the crown jewel: Overall Winner.
Interviewing Experts: What other competitions has he participated in?
YOR Health: Bolstered by these successes, Ben solidified his position as the most prominent fitness model in Australia at the Musclemania Australia event in late October. He also secured second place in the category of Physique. Plus, he won the championship at Model Australia.
Interviewing Experts: What events can Ben look forward to the rest of the year?
YOR Health:  Ben recently qualified for the World Championships as a representative of Australia. He feels optimistic about his chances. Meanwhile, he will compete in the Fitness America Weekend, held annually in Las Vegas.
Interviewing Experts: How has Ben played an active role with YOR Health?
 
YOR Health: He has consistently acknowledged the YOR Health line of products as the best in the industry. He remains grateful and humbled by the opportunities that YOR Health has provided him, and we are grateful for his support as well.
Interviewing Experts: What elements of YOR Health were particularly interesting for Ben?
 
YOR Health: He often credits the company for rolling out a new era in the field of nutrition.
Interviewing Experts: How will the world title fit into the landscape of Ben's career and what is his ultimate goal?
 
YOR Health: Ben says that he hopes to secure this coveted honor in support of YOR Health, which has provided him the necessary products for his overall fitness. He aims to motivate thousands of people through his fascinating story, one marked by lifelong perseverance that should encourage others to reach their full potential.
YOR Health continues to assist thousands of people in Australia and across the world in their quest for better lives through their popular line of nutritional supplements and meal replacements.