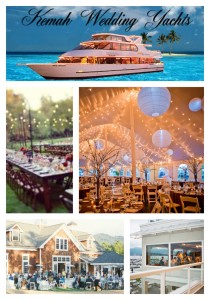 According to Kitchen Charm bridal registry coordinators, a destination wedding is the way to go for couples wishing to spend more time cozied up with their closest friends and family. Here, Kitchen Charm bridal experts provide brides with ample ammunition to pull the trigger on the beach or mountain wedding of your dreams.
Q: Summer is here and that means one thing: weddings, weddings, weddings!
Kitchen Charm: You've got that right.
Q: We understand that Kitchen Charm is a member of the Canadian Bridal Registry. Living so far north, are destination weddings popular?
Kitchen Charm: Absolutely, especially for couples planning a beach honeymoon.
Q: What, exactly, constitutes a destination wedding?
Kitchen Charm: A destination wedding is defined as one held more than 100 miles from home.
Q: Isn't it harder to get friends and family to show up when you go far away?
Kitchen Charm: That question can be answered with both yes and no. On one hand, most casual acquaintances probably won't travel more than a couple of hours for your nuptials. On the other, you have the opportunity to get away with the people that you love the most.
Q: And spend more time with my closest friends and family…
Kitchen Charm: Exactly. And, you'll get to spend more time on your wedding day with your brand-new spouse.
Q: How's that…isn't it the same kind of ceremony?
Kitchen Charm: When you have a destination wedding, everything else is taken care of for you. All you really have to do is get dressed and show up. You won't be running around all day trying to tie up last-minute details.
Q: What are the best locations for a destination ceremony?
Kitchen Charm: Any location that you choose is the best location. Popular destinations include the beach and mountains. Both are beautiful choices, but you can get creative.
Q: What percentage of weddings are held away from home?
Kitchen Charm: Of the more than 2 million couples in the US to get married each year, less than 20% skip town to do so.
Q: Is a destination wedding more expensive?
Kitchen Charm: Because you're combining your wedding and honeymoon, you may actually wind up coming out on top. You won't spend as much on decor and many resort destinations include intimate ceremonies with your stay.
Q: It sounds really difficult to plan a destination wedding. Does Kitchen Charm have any advice?
Kitchen Charm: Our preferred partner, VacationEeze, plans hundreds destination wedding ceremonies each year and has reduced them to a science. They can definitely make your wedding a painfree experience.
Q: Okay, other than the beach and mountains, what are some other ideas for runaway weddings?
Kitchen Charm: We have seen everything from weddings held on sprawling California vineyards to European weddings hosted in an elegant castle.
Q: When is the best time to get married if I'm going out of town to do so?
Kitchen Charm: That's going to depend on where you go. Check the Farmer's Almanac for expected weather conditions the time of year you plan to get married.
Q: That's really great information. Thanks for sharing.
Kitchen Charm: Any time!
Q: Is there anything you'd like to add for our readership?
Kitchen Charm: It's worth noting that Jack at VacationEeze offers a special incentives for Kitchen Charm brides. All you have to do is ask. He can be reached at 800.592.EEZE