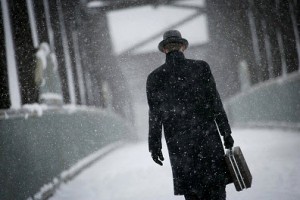 Business owners throughout the United States are feeling the effects of harsh winter weather. According to a Biz2Credit report studying 20,000 American businesses, revenues have fallen over the first two months of 2014. Biz2Credit connects business borrowers with lenders nationwide – more than 1,200 in 2013. The company compared data from the same time period in 2013.
Examining businesses in the Midwest and Northeast, Biz2Credit found that revenue for retail stores dropped 13 percent from last year. The warehousing and transportation industries are down nearly 11 percent. Construction also experienced a large drop: 9 percent.
Feeling the effects of the winter chill, retail stores are struggling to maintain their past fortunes. Macy's has laid off 2,500 employees and close five stores throughout the United States. Target is trimmed nearly 500 jobs. In their latest store report, Kohls cited smaller levels of clearance merchandise and lower traffic.
Even Walmart has gone through its share of times. Citing the winter storms as well as reduced food stamp benefits for its shoppers, the company has been forced to lay off over 2,000 employees in  Sam's Club stores. This number represents about 2 percent of the chain's workers.
Factories also took a major hit this winter, according to the Institute of Supply Management. Factories that produce long-term goods such as appliances, airplanes and automobiles saw fewer orders in the month of December, with rates dropping to their lowest since May. Several participants in the study points to bad weather conditions as the primary reason for the slump.
While many industries experienced a loss in revenue, the effects weren't felt everywhere. Revenue in social assistance and health care slipped only 3.5 percent.
Though the year has been slow so far, business owners could rebound over the spring and summer months. The weather may play a major role in determining the size of this increase.