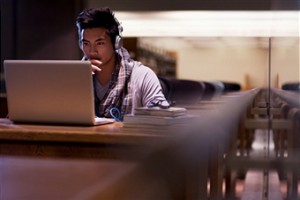 In 2013, several education trends took center stage, including an increase in online courses and new evaluation processes for colleges, universities and educators.
The White House, foundation funders and state governments, have all begun pressuring colleges to reduce the time required for students to graduate. The most prominent strategies in the past year: offering students class credit for work experience, and advancing students based on achievement.
In the first scenario, students may receive college credit for military and on-the job training, as well as volunteer experience. Credit is generally granted through portfolio assessment and placement tests, though the American Council on Education can also make these recommendations. Some colleges and employers have developed partnerships that exchange workplace training for college training. One example: Starbucks.Companies, community colleges and high schools are joining forces to increase opportunities for students to gain necessary technical skills. Certain U.S. states like Georgia and Texas place an emphasis on technical and career education. In general, students who possess specialized skills or training have an easier time being hired in a difficult economy. Educators appreciate the fact that students are more excited about science and math in these programs.
Another strategy is allowing students to advance through course material at an individual rate, with test scores determining how quickly they progress. At this time, 48 states and the District of Columbia offer online courses that range from supplemental courses to full-time instruction.  These opportunities include summer school programs, credit recovery and dual enrollment.
As policymakers tinker with the idea of rewarding teachers for their quality, districts have tried to improve their assessment practices. The great debate how these teacher evaluations can be tied to student performance. In the coming years, educators will receive more rigorous assessments by way of principal reviews, test scores and classroom observation.