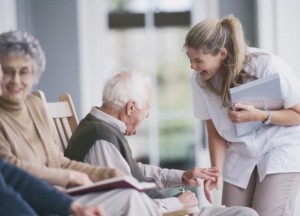 As our parents age, many of us are left wondering how we are going to care for them. Here, Stephen Edward Samuelian opens up about senior care options and highlights major differences in skilled nursing and nursing home facilities.
IE: Thanks for joining us today.
Stephen Edward Samuelian: My pleasure… I am always happy to speak about topics near and dear to me, especially senior care.
IE: Let's talk first about how to talk to your own parents about relocating to a new environment.
Stephen Edward Samuelian: It's important to include the parent in the decision from the beginning. Even if we see a frail and aging body, their minds are very often sharp and they are perfectly capable of making choices for themselves.
IE: What about when they aren't? Like as with Alzheimer's or late-stage Parkinson 's disease?
Stephen Edward Samuelian: Stay open about what's happening. Even advanced dementia patients have moments of lucidity and will appreciate your respect and honesty.
IE: What kinds of care options are there for the 65+ community?
Stephen Edward Samuelian: There are retirement communities, assisted living, nursing homes, skilled nursing care, and home health care.
IE: What are the differences between assisted living and retirement communities?
Stephen Edward Samuelian: A "community" is often set up as such with single family homes in a planned development; residents come and go as they please. Assisted living is often similar to an apartment community with a medical and non-medical staff that's there for assistance.
IE: And skilled nursing care…that's the same as a nursing home, right?
Stephen Edward Samuelian: No, although some nursing homes do offer some skilled nursing care services.
IE: So what's the difference?
Stephen Edward Samuelian: A Skilled Nursing Facility (SNF) is required to have a number of advanced medical providers on-site. This will include registered nurses, therapists, and nutritional counselors.
IE: Are SNFs managed privately?
Stephen Edward Samuelian: Yes, they are usually managed by private conglomerates and governed by a board of directors. They report to Medicare for oversight.
IE: Are nursing homes regulated by Medicare?
Stephen Edward Samuelian: No, they are usually regulated by state or local agencies.
IE: Let's shift gears now. What kinds of medical services are provided at skilled nursing facilities?
Stephen Edward Samuelian: IV medications, occupational and speech therapies, advanced pharmaceutical distribution and monitoring, and wound care are taken care of at SNFs.
IE: So basically, care that isn't as easy as taking a few pills or checking blood sugar?
Stephen Edward Samuelian: Yes, medical services that require a skilled hand and extensive knowledge.
IE: It sounds like SNFs are best for people who need constant care and supervision?
Stephen Edward Samuelian: Yes, that's right.
IE: That's really good information to have and something to think about when we're looking into care options.
Stephen Edward Samuelian: Yes. It's not something people often consider until it's time to start looking…
IE: We appreciate your time today. We'd like to have you back one day, perhaps to talk about building for specific medical needs.
Stephen Edward Samuelian: I'd be happy to!