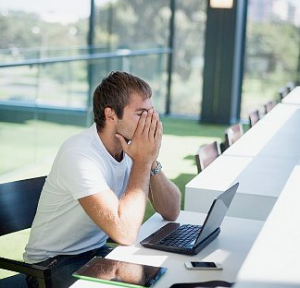 By encouraging employees to take a break now and then, businesses can improve productivity and output, according to a new study.
Staples conducted a study of U.S. employees and found that over 85 percent of employees believe occasional breaks would make them much more productive. Over one-quarter of these employees currently count lunch as their only time of rest during the workday.
Guilt was cited as the most common reason (19 percent) that employees failed to step away from their desks. Meanwhile, 55 percent of respondents said they don't have the time necessary for taking a break.
John Trougakos, a professor of management at the University of Toronto, shares that work-related stress costs companies billions of dollars each year. Regular work breaks can improve satisfaction and employee effectiveness while reducing fatigue and strain. Options for leisure time include reading a book, walking or making a quick phone call to family members and friends.
According to the study's results, disconnecting from the daily grind for a few minutes can help an employee's mindset and energy levels while improving the ability to focus on tasks at hand.
59 percent said more breaks would likely boost their spirits at the office
43 percent said it would increase their overall sense of confidence and self-esteem
37 percent said it would improve their health and wellbeing
60 percent noted that a comfortable and well-stocked break room may encourage employees to leave their paperwork behind and unwind for a brief period
By asking specific questions about the respondents' daily routines, the authors of this study discovered that the key to encouraging short breaks throughout the day may lie in the break room. Over 76 percent of employees said that these office oases allow them ample space to relieve stress and relax.
The study included surveys of over 200 office workers at organizations across the United States and Canada.